Future of Storytelling Expert Series: CloudKid's Founder on Interactive Storytelling for Children — from Latitude Research° by Kim Gaskins
Excerpt:
Recently, Latitude (in collaboration with Itizen) launched an innovation study on The Future of Storytelling. Why? So we can uncover the questions, challenges, and aspirations of tomorrow's storytellers and identify how they can better align with audience's changing expectations. Every week for the next several weeks, Latitude will share its conversation with a different influential individual. We'll follow the series with a summary of best practices and insights for content creators and businesses from Latitude's SVP, Neela Sakaria.
Also see: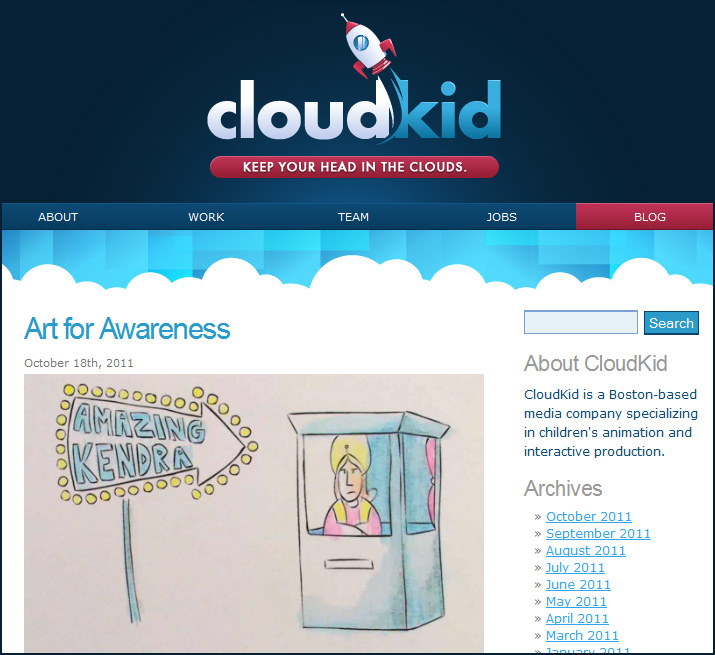 With our heads fully in the clouds (where else would you want your head to be?), CloudKid transforms daydreams, fantasies, and flights of imagination into characters and stories that live, breathe, laugh, run, shout and fly.
CloudKid combines story and animation philosophies with mobile/web technologies to create eye-popping programs for children—we take children's media to places it's never been before. From film/animation production to story/character development, CloudKid develops intellectual property and technologies that will truly change the way kids and families interact with entertainment.
Addendum later on 10/18/11: