Stop the presses: Students dive head first into Editorial for the iPad — from blogs.artcenter.edu/dottedline by Mike Winder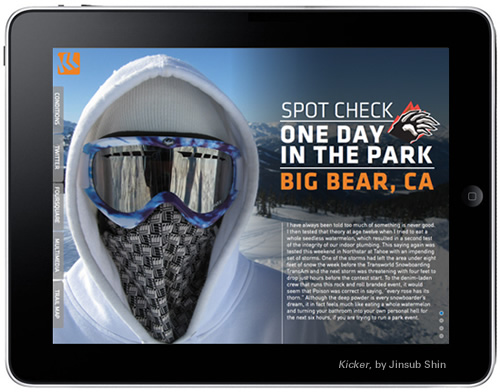 Excerpt:
Sensing a shift in the industry, Nik Hafermaas, Chair of Art Center's Graphic Design Department, sat down with instructor Carla Barr to discuss the possibility of creating an iPad design class. Barr, who has taught Editorial Design extensively, saw an opportunity to bring her area of expertise and this new technology together and suggested creating an iPad Editorial class.
"Students a few years ago had very mixed feelings towards interactive media," says Nik Hafermaas, who thinks this class, along with classes like MediaTecture and this coming term's augmented reality studio—sponsored by LAYAR and co-taught by writer Bruce Sterling—fall into the burgeoning arena of transmedia design and are important steps for where Art Center students needs to be headed conceptually. "Now students are aware of the ubiquitous nature of these tools," he says. "They're starting to enjoy using them, and see that somebody needs to design the content."
The experimental class—whose test run took place last term and which is being offered again Summer Term—attracted the attention of two education specialists from Apple, one who visited the class and another, according to Barr, who said there was no other class he knew of focusing on editorial for the iPad.
We recently chatted with iPad Editorial instructor Barr and two students  who took the class, Graphic Design majors Megan Potter (who graduated last month) and Jinsub Shin about their experience and digital publications.