For Ivy League grads, tech trumps Wall Street — from SmartPlanet.com by Kirsten Korosec
Excerpt:
A wave of young professionals–as well as recent grads–are bypassing (or leaving) Wall Street to take jobs within the high-tech sector, reported the Wall Street Journal. Nowhere is this trend more evident than in New York City, where employments in securities and banking fell 10 percent to 163,600 jobs in the past five years. Over the same time period, high-tech employments rose 10 percent to 275,600 by mid-2010, according to data from the New York State Department of Labor, reported the WSJ.
On 04/22/2013, in blogs / blogging, business, collaboration, corporate / business world, corporate universities / corporate training, Daniel S. Christian, digital learning, elearning, face-to-face, streams of content, training / L&D, ubiquitous learning, using teams, videoconferencing, web-based collaboration, workplace, by Daniel Christian
From DSC:
This data further supports my thoughts on helping people build their own learning ecosystems — something Jane points out as well when she states that "workers find other (self-organised and self-managed) ways of learning at work far more valuable – with team collaboration being the highest rated."
I recommend helping folks learn how to create their own blogs and learn how to subscribe to others' blogs, access relevant wikis, use Twitter, employ Google Alerts, etc.  
Provide each employee with some relevant names/blogs/websites/etc. to get employees started (i.e. of some knowledgeable accountants, legal counsel, product designers, engineers, digital marketing experts, cloud computing strategists, programmers for mobile computing apps, etc.).  I realize this presents issues with companies' sensitive information such as patents and/or intellectual property.   But if Harold Jarche is correct in saying that we live in a post-jobs world, what we know of the modern corporation may be very different in just a few years anyway.  (i.e. You're on your own. You are your own corporation/business; so build your own brand and expertise. Build your own valuable network of peers/colleagues — who you can contribute to as well as to learn from.)

Admittedly, this changes some of the roles of the training department from creating e-learning modules to becoming excellent researchers, social media experts, quasi-librarians, etc.
(Come to think of it, I wonder if that might happen in higher ed as well — i.e. provide students with the relevant/key experts, important thinkers, streams of content, etc.)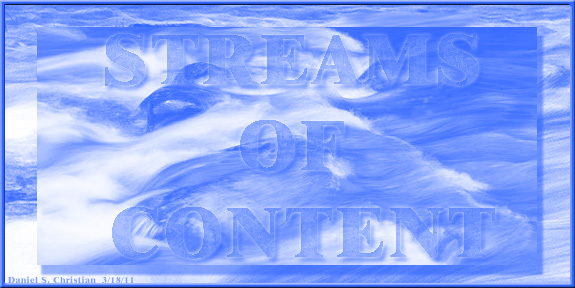 On 04/18/2013, in change, changing business models, corporate / business world, corporate universities / corporate training, dangers of the status quo, emerging technologies, experimentation, game-changing environment, higher education, innovation, learning ecosystem, MOOCs -- Massive Open Online Courses, New "Amazon.com" of Higher Education, by Daniel Christian
Online education for the pros: Udemy launches corporate training tools — from venturebeat.com by Christina Farr
Excerpt:
Online course providers typically target students, but Udemy is going after an underserved group: professionals.
---
Also, from Learning TRENDS by Elliott Masie – April 18, 2013
#768 – Updates on Learning, Business & Technology
55,949 Readers – www.masie.com – twitter: emasie – The MASIE Center.
Host: TeleWork 2013 – A National Forum – www.telework2013.com
1. MOOC's & Corporate Learning?
There is a great media interest in MOOC's – the innovations for Massive Open Online Courses – where one instructor runs a course for thousands or tens of thousands of learners.  I have been a student in three MOOC's and a teacher/facilitator in three.  Now, we are hearing from many learning colleagues about the applicability of the MOOC to workplace learning.

I would urge TRENDS readers to approach MOOC's as important beta/lab experiments – where important and cool innovations are emerging in the construction, delivery and economics of educational "packages".  My experience as a MOOC learner has been exciting and mixed.  While there were over 70,000 learners in one program – very few made it to the end of the program – and fewer were fully successful from a competency point of view.  It was exciting to see how learners could be co-designers of the program and many resources were developed and disseminated from the learners.  Finally, there were mixed models of how well the social/collaborative side of the MOOC's worked.

As a teacher – I struggled with the format shifts reflected by MOOC's. Were the assignments suggestions or could I predict a level of engagement of the learners.  Was the content that was posted by learners legal – some added video that wasn't within their IP ownership.  And, the issue of fees were also interesting. A free MOOC will get high starts but perhaps high drop offs.  When fees were added, did that take away the "open" label.  It is also interesting to see colleges and universities that have never made a profit on classroom offerings think they will generate good margins by adding MOOC's to their offerings.

It is early and really too early to predict how MOOC's might evolve within the corporate world.  I have been advocating that we take each of the letters as distinct areas for innovation:

– M: Massive dissemination of content
– O: Open content and content reuse along with curation by learners.
– O: Online resources added to both 1 mode and mixed/blended mode delivery.
– C: Course? Perhaps the MOOC might become a MOOP (Program) or MOOA (Assets)

And, is there a Competency check assumed in a MOOC – as well as certification or even college credit?

MOOC's are important innovations.  Now, we need to label them as Lab or Beta tests – and gather evidence as we experiment with the use of all or some of MOOC's elements in corporate settings.  We will be experimenting with the MOOC as a corporate model in an upcoming Learning LAB of our Learning CONSORTIUM.  Interested in hearing from TRENDS readers exploring MOOC's in our world.
---
The College of 2020
If #HigherEd stays way it is, w/ 19th century style lectures, w/in 10 years Google U. and Walt Disney U. to take it over – Wim Westera
---
Addendum on 4/19/13:
Bridging the Skills Gap — from trainingmag.com by Lorri Freifeld
Employers want certain skills. Employees don't have them. Why? And what can organizations and Training, employees, and the educational system do to eliminate the disconnect?
Excerpt:
With the U.S. unemployment rate hovering around 8 percent and millions of people desperately looking for jobs, why are many employers claiming they can't fill their vacant positions?
The answer: A skills gap that threatens the sustainability of businesses around the world. And while a big part of the skills gap is a shortage of people skilled in the STEM (science, technology, education, and math) industries, there also is a gap in soft skills such as communication and advanced leadership skills.
…
What is causing these skills gaps? What can—and should—employers and their Training departments, employees, and the education system be doing differently? This first article in a five-part series will address these questions. Subsequent articles will explore how corporate partnerships with colleges and universities can help bridge the divide (May/June), how to motivate employees to take advantage of skills gap training and eliminate any sense of promotion entitlement (July/August), how technology can help (September/October), and additional potential solutions and strategies for success (November/December).
.
From DSC:
We had better start talking STEAM not STEM from here on out (i.e. add the ARTS!).  You can't get creative thinkers without fostering some creativity.
Citrix Paris headquarters by Areq Sq
Example images:
.
.
On 04/08/2013, in 21st century, Artificial Intelligence / Machine Learning / Deep Learning, career development, computer science, corporate / business world, corporate universities / corporate training, dangers of the status quo, future, professional development, robotics, technologies for your home, the downsides of technology, United States, workplace, by Daniel Christian
Technology is eating your job (part 2) — For those who need more convincing  — by Michelle Martin
Excerpts:
The reason I'm harping on technology so much is because for most of us, I believe this is a ticking time bomb we are trying to ignore. Most of us want to keep our heads down and just keep working, hoping that we aren't going to be the ones displaced by a piece of software or some other form of automation.
This will be a mistake. And it will blow up in your face. You need to start thinking now about how to future-proof yourself as much as possible so that you're more prepared for this breaking wave of technology.
From DSC:
This is truly a troubling subject. I often ask myself the following questions:
Is an entire swath of people being left behind?

Am I in that swath?
(It sure feels like it at times; it feels like the tidal waves of change are washing over us and we're all starting to flail about. Perhaps it's too early to tell, but I think we'll all feel this soon.)

What do we do about this developing situation?  What does it mean for K-12? Higher ed? The corporate world?
Thanks Michelle for the important posting/heads-up!
For some solutions/thoughts here, see Michelle's posting:
On 04/04/2013, in 21st century, business, change, economics, emerging technologies, global / globalization, innovation, internet, machine-to-machine communications, trends, by Daniel Christian
The Internet of Things: When GE sees a $ trillion opportunity, you might want to take it seriously. — from thebln.com by Mark Littlewood
.
— The link/posting above is from March 12, 2013
— The item below is from November 26, 2012
Some sample images:
On 03/28/2013, in 21st century, career development, change, changing business models, computer science, corporate / business world, disruption, programming, robotics, workplace, by Daniel Christian
How the internet is making us poor — from qz.com by Christopher Mims
Excerpt:
Everyone knows the story of how robots replaced humans on the factory floor. But in the broader sweep of automation versus labor, a trend with far greater significance for the middle class—in rich countries, at any rate—has been relatively overlooked: the replacement of knowledge workers with software.
Also see:
From DSC:
So…what courses aren't we teaching in K-12 and in higher ed that we need to be teaching to help our students get prepared for this quickly-changing situation in the workplace? Now? In the near future? 
What's some good career advice (or resources) out there?
Dan Pink's A Whole New Mind is one resource that comes to mind.
On 03/27/2013, in Bring your own device (BYOD), corporate / business world, corporate universities / corporate training, India, mobile learning, strategy, training / L&D, trends, workplace, by Daniel Christian
Why mobile learning is the future of workplace learning (infographic) — from upsidelearning.com by Amit Garg
Click to view the complete infographic.
| Infographic by
Upside Learning
On 03/22/2013, in 21st century, Australia, business, Canada, corporate / business world, economics, Europe, future, global / globalization, graphics, sociology, United States, visualizing information, by Daniel Christian
Visualizing the future urban world — from fastcoexist.com by Ariel Schwartz
A new app called Urban World beautifully projects how cities around the world are going to explode in growth and economic power by 2025.
Also see:
From DSC:
I appreciate Kevin Wheeler's comment on Jay Cross' posting entitled "A Solution to the College Crisis" (emphasis below from DSC)
In response to Jay Cross:
Higher education in the United States is broken. Costs are ouf of control. Students are dissatisfied. Graduates can't get jobs. Says MIT's Andy McAfee, "What's going on is halfway between a bubble and a scandal." I propose we put higher ed back on track by founding Corporate Colleges. Corporate colleges break higher […]
Jay,
As you know I have written a book on Corporate Universities and have spent many years at the "coal face" of learning, work and formal education. What you propose is actually what many corporate universities are offering today (except for your funding approach). It works well at the professional levels where people already have skills and degrees but seek additional competence.
it works much less well with entry level folks and people with minimal education. Many of these folks lack basic skills or are functionally illiterate. Some are reluctant to sink time into learning, especially if it reduces pay. Many have social issues and have had bad experiences learning in school. They are not predisposed to learn in any way that looks like learning.
They need personal attention, work-based apprentice-like education, and a tremendous amount of coaching with consistent motivation or interest falls off. It is a dilema that technology works much less well at this level and therefore costs for coaching go up while the benefit to a corporation is minimal. Most organizations would rather invest in those who are already performing than try and educate entry-level or marginal folks. …
Everything you propose makes perfect sense, but it is damn hard to get it to work in reality.
.
From DSC:
This is exactly the kind of thing I've been trying to address — if people don't like learning, it will be very hard to get them to become lifelong learners (something that has become a requirement these days). 
To those of us working within K-12 and/or higher education:
One of the greatest gifts that we can possibly give to our students is a chance for them to identify and develop their God-given passions, interests, and abilities.  If we create the "space" for this to occur, an enormous amount of internal energy and will power will be released.
Check out this video for a perfect example of this!!!

.
To those folks working within the corporate world:
How can your organization's culture be tweaked to better support people and their development?  This might be putting more resources towards helping internal employees develop their own learning ecosystems — based upon their interests, passions, career goals — and/or hiring entry-level folks and then helping develop them.  Besides helping to make the world a better place, this approach just might just turn out to be a solid business move.