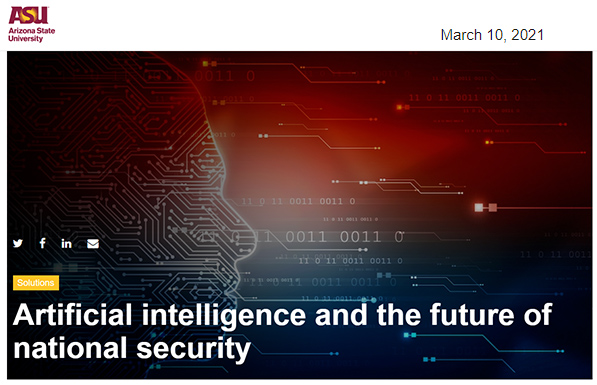 Artificial intelligence and the future of national security — from news.asu.edu
Excerpt:
Artificial intelligence is a "world-altering" technology that represents "the most powerful tools in generations for expanding knowledge, increasing prosperity and enriching the human experience" and will be a source of enormous power for the companies and countries that harness them, according to the recently released Final Report of the National Security Commission on Artificial Intelligence.
This is not hyperbole or a fantastical version of AI's potential impact. This is the assessment of a group of leading technologists and national security professionals charged with offering recommendations to Congress on how to ensure American leadership in AI for national security and defense. Concerningly, the group concluded that the U.S. is not currently prepared to defend American interests or compete in the era of AI.
Also see:
EU Set to Ban Surveillance, Start Fines Under New AI Rules — from bloomberg.com by Natalia Drozdiak
Excerpt:
The European Union is poised to ban artificial intelligence systems used for mass surveillance or for ranking social behavior, while companies developing AI could face fines as high as 4% of global revenue if they fail to comply with new rules governing the software applications.
Also see:
Wrongfully arrested man sues Detroit police over false facial recognition match — from washingtonpost.com by Drew Harwell
The case could fuel criticism of police investigators' use of a controversial technology that has been shown to perform worse on people of color
Excerpts:
A Michigan man has sued Detroit police after he was wrongfully arrested and falsely identified as a shoplifting suspect by the department's facial recognition software in one of the first lawsuits of its kind to call into question the controversial technology's risk of throwing innocent people in jail.
Robert Williams, a 43-year-old father in the Detroit suburb of Farmington Hills, was arrested last year on charges he'd taken watches from a Shinola store after police investigators used a facial recognition search of the store's surveillance-camera footage that identified him as the thief.
Prosecutors dropped the case less than two weeks later, arguing that officers had relied on insufficient evidence. Police Chief James Craig later apologized for what he called "shoddy" investigative work. Williams, who said he had been driving home from work when the 2018 theft had occurred, was interrogated by detectives and held in custody for 30 hours before his release.
Williams's attorneys did not make him available for comment Tuesday. But Williams wrote in The Washington Post last year that the episode had left him deeply shaken, in part because his young daughters had watched him get handcuffed in his driveway and put into a police car after returning home from work.

"How does one explain to two little girls that a computer got it wrong, but the police listened to it anyway?" he wrote. "As any other black man would be, I had to consider what could happen if I asked too many questions or displayed my anger openly — even though I knew I had done nothing wrong."
Addendum on 4/20/21: