State of AI — from stateof.ai
Excerpt:
In this report, we set out to capture a snapshot of the exponential progress in AI with a focus on developments in the past 12 months. Consider this report as a compilation of the most interesting things we've seen that seeks to trigger informed conversation about the state of AI and its implication for the future.
We consider the following key dimensions in our report:
Research: Technology breakthroughs and their capabilities.
Talent: Supply, demand and concentration of talent working in the field.
Industry: Large platforms, financings and areas of application for AI-driven innovation today and tomorrow.
Politics: Public opinion of AI, economic implications and the emerging geopolitics of AI.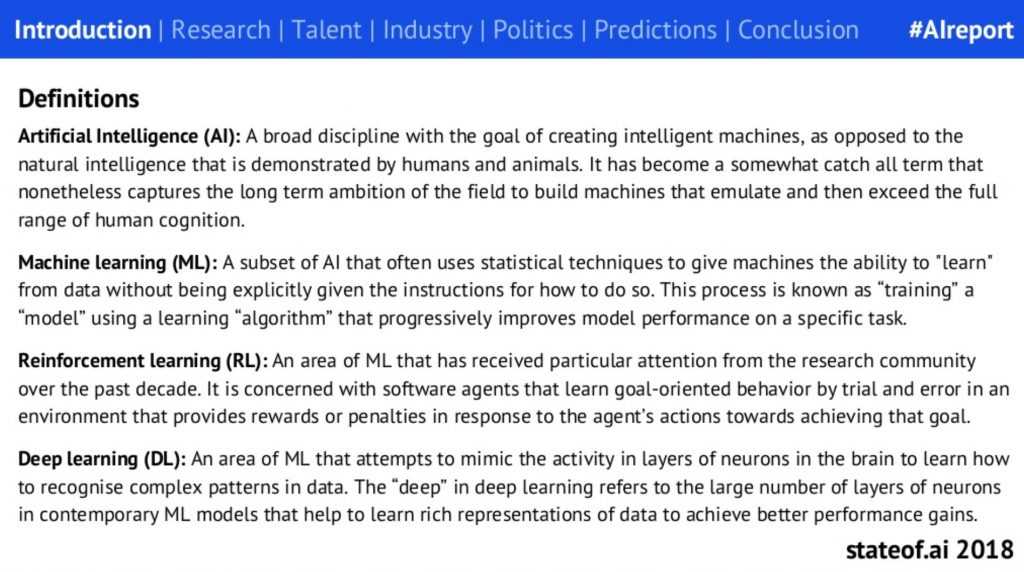 There's nothing artificial about how AI is changing the workplace — from forbes.com by Eric Yuan
Excerpt:
As I write this, AI has already begun to make video meetings even better. You no longer have to spend time entering codes or clicking buttons to launch a meeting. Instead, with voice-based AI, video conference users can start, join or end a meeting by simply speaking a command (think about how you interact with Alexa).
Voice-to-text transcription, another artificial intelligence feature offered by Otter Voice Meeting Notes (from AISense, a Zoom partner), Voicefox and others, can take notes during video meetings, leaving you and your team free to concentrate on what's being said or shown. AI-based voice-to-text transcription can identify each speaker in the meeting and save you time by letting you skim the transcript, search and analyze it for certain meeting segments or words, then jump to those mentions in the script. Over 65% of respondents from the Zoom survey said they think AI will save them at least one hour a week of busy work, with many claiming it will save them one to five hours a week.
AI can now 'listen' to machines to tell if they're breaking down — from by Rebecca Campbell
Excerpt:
Sound is everywhere, even when you can't hear it.
It is this noiseless sound, though, that says a lot about how machines function.
Helsinki-based Noiseless Acoustics and Amsterdam-based OneWatt are relying on artificial intelligence (AI) to better understand the sound patterns of troubled machines. Through AI they are enabling faster and easier problem detection.
Making sound visible even when it can't be heard. With the aid of non-invasive sensors, machine learning algorithms, and predictive maintenance solutions, failing components can be recognized at an early stage before they become a major issue.
Chinese university uses facial recognition for campus entry — from cr80news.com by Andrew Hudson
Excerpt:
A number of higher education institutions in China have deployed biometric solutions for access and payments in recent months, and adding to the list is Peking University. The university has now installed facial recognition readers at perimeter access gates to control access to its Beijing campus.
As reported by the South China Morning Post, anyone attempting to enter through the southwestern gate of the university will no longer have to provide a student ID card. Starting this month, students will present their faces to a camera as part of a trial run of the system ahead of full-scale deployment.
From DSC:
I'm not sure I like this one at all — and the direction that this is going in. 
Will We Use Big Data to Solve Big Problems? Why Emerging Technology is at a Crossroads — from blog.hubspot.com by Justin Lee
Excerpt:
How can we get smarter about machine learning?
As I said earlier, we've reached an important crossroads. Will we use new technologies to improve life for everyone, or to fuel the agendas of powerful people and organizations?
I certainly hope it's the former. Few of us will run for president or lead a social media empire, but we can all help to move the needle.
Consume information with a critical eye.
Most people won't stop using Facebook, Google, or social media platforms, so proceed with a healthy dose of skepticism. Remember that the internet can never be objective. Ask questions and come to your own conclusions.
Get your headlines from professional journalists.
Seek credible outlets for news about local, national and world events. I rely on the New York Times and the Wall Street Journal. You can pick your own sources, but don't trust that the "article" your Aunt Marge just posted on Facebook is legit.