Wearables & Virtual Reality: Where Higher Education is Headed — from higheredtechdecisions.com by Jessica Kennedy
EDUCAUSE seminar predicts wearables and virtual reality solutions will take higher education learning to a new level.
Excerpt:
Even though fitness trackers like FitBit are increasing in popularity among college students, Georgieva and Craig predict wearables and immersive and virtual reality spaces will become must-haves on college campuses.
"It's a tremendous opportunity for teaching and learning," Craig says. "[It provides] headgear for the eyes, virtual and augmented reality, and wearables for the brain."
Georgieva says that as technologies like wearables evolve, students' learning styles and visual literacy shift.
Students are more immersed in a visual culture and rely on pictures to communicate, analyze and learn.
7 up-and-coming wearable technologies — from campustechnology.com by Leila Meyer
Sensory messaging devices, stress-reducing headpieces, biometric authentication bands and more — these cutting-edge wearables could soon be coming to your campus.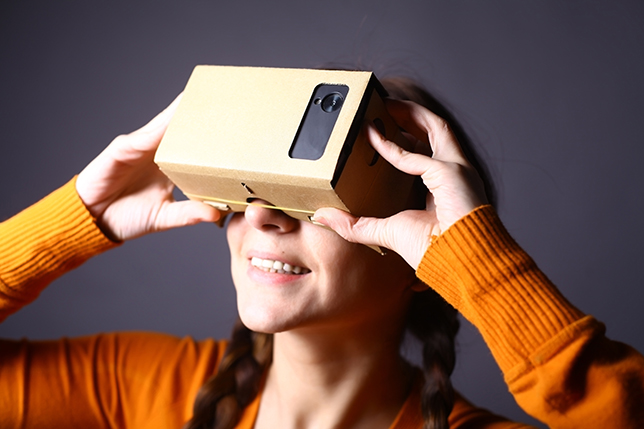 How the Internet of Things will revolutionise medicine — from techradar.com by Jamie Carter
Excerpt:
Anyone who's been in hospital will know how long nurses spend taking hourly measurements for blood pressure, and much more besides. If a hospital could put a wearable device on each patient to automate the process, the time saved would be enormous – and that's just the beginning of how the Internet of Things (IoT) promises to change healthcare.
Over the next five years the traditional 'doctor-patient' model will completely open up as self-monitoring devices do away with the need for routine check-ups and appointments, and IoT sensors in our homes and on our bodies increasingly allow us to look after ourselves.
1 In 5 U.S. Adults On Board With Wearables Now — from readwrite.com by David Nield
And smartphones are driving the change.
Excerpt:
Forrester released its annual report on US consumer technology use on [9/28/15], and the findings make encouraging reading for wearable developers, manufacturers and enthusiasts.
Twenty-one percent of all "online" adults in the U.S. now own a wearable device of some kind, with the younger generation leading the way in adoption.
Future wearables could be sensors you ingest and implant, Jawbone CEO says — from cnet.com by Shara Tibken
Hosain Rahman also says sales of his company's fitness wearables haven't been hurt by the Apple Watch.
Excerpt:
He added that wearables will play a key role in the move to connect everything to the Internet, known as the Internet of Things.
Blocks modular smartwatch hits Kickstarter for $285 and ships in May 2016
What you need to know about specs, prices and modules before backing Blocks
Basis Peak Fitness and Sleep Tracker — from humanplus.design
Google Glass 2.0 – Specs, Price And Release Date — from wtvox.com
Excerpt:
Everybody is talking about Google Glass 2.0. To paraphrase from Lavoisier's "Traité Élémentaire de Chimie". "Rien ne se perd, rien ne se crée, tout se transforme." ("Nothing is lost, nothing is created, everything is transformed.")
I'm sure you've heard that Google Glass is dead. Believe it or not, it is still alive. Google Glass never died. Google Glass "reborn" into a second version. Like the phoenix bird.
There is much misinformation about Google Glass at the moment. Let's get the facts straight. Here is everything you need to know about the new Google Glass 2.0.
Google Glass 2.0: Versions And Design
Google Glass 2.0 is in good hands. The old Glass team is now called Project Aura and behind the new team is Tony Fadell. You might now Mr. Fadel as the founder of NEST. But, few of you know that he designed the first iPod in 2001.
A Wearable Device with the Pitcher In Mind — from insightreplay.com by Graham Clark

Excerpt:
A wearable sensor that tracks strain on a pitcher's elbow is making waves in major league baseball (MLB). The mThrow, by Motus Global, is a simple, lightweight sleeve, designed to be worn every time a pitcher throws. The smart throwing sleeve and companion iOS app collects and analyzes real-time biomechanical data from each game and practice, and uses that data to calculate workloads and recommend daily throw limits. This season, 27 MLB teams and their minor league affiliates are trying out the device, in the hope that it will help monitor pitchers' workloads, improve pitching mechanics, and prevent injuries.
Wearables to U.S. adults: You're putting me on — from news.investors.com