Amazing timelapse video of Patrick Vale drawing the Manhattan skyline — from thisiscolossal.com as posted by Christopher Jobson
On 08/24/2012, in Apple, Daniel S. Christian, digital learning, digital textbooks, education technology, global / globalization, internet, learning ecosystem, Learning from the Living [Class] Room, mirroring and/or multiple devices, New "Amazon.com" of Higher Education, new media literacies, online learning, UK, web-based collaboration, by Daniel Christian
iTunes U Course Manager hands on — from UCL – London's Global University  by Matt Jenner
Excerpt:
iTunes U is known as a wonderful platform for finding recorded lectures and podcasts from academics and institutions across the world. But recently it's also become a location for entire courses, with students, multiple resources and some interaction all happening on devices such as the iPad. It's all very Apple-based, which means anyone without this hardware can't access it and thus it remains a little elitist. BUT there's still some good reasons to look into it – and I hope this begins to explain why.
From DSC:
Thanks Matt for the helpful screenshots and overview of what iTunes U is offering these days!
If Apple were to devote more resources to create a fully-stocked CMS/LMS, they could add a significant piece to the overall ecosystem they continue to build.  But this time, it would have significant benefits to those who want to learn and to reinvent themselves over time.
For example, what if:
Faculty members worked with students to create the textbooks using iBooks Author?

And the textbooks were free?

iPads were used in BYOD type of settings and audio/video/text/graphics-based files could be "beamed" up to a larger presentation display? (Or all of the materials that they would need are already on the iPad from their orientation day and onward — and would constantly be updated throughout their collegiate days?  In fact, a supplemental charge could provide the ability for alumni to subscribe to constantly updated streams of content as well.)


CMS/LMS functions like discussion boards, wikis, blogs, podcasts, videoconferencing and more could be built into iTunes U?
Could be a potent learning setup as such cloud-based materials are available to everyone throughout the globe — at very attractive prices.
Envisioning the future of education — from envisioningtech.com by Michell Zappa
Excerpt:
Models of teaching worldwide are being revolutionized and reconsidered in real-time, and it seems everybody is looking for the holy grail of how to future-proof their classrooms. Advancing technology is leaving old schools of thought in their wake, and teachers are waking up to the fact that things will only speed up further in the foreseeable future.
Having spent time with the wonderful people at TFE Research in Dublin earlier this year, our new visualization is a concise overview of technologies that have the potential to disrupt and improve teaching on all levels.
Along with a few dozen emerging techs, we identified six key trends that link and contextualize said technologies, including classroom digitization, gamification and disintermediation.
.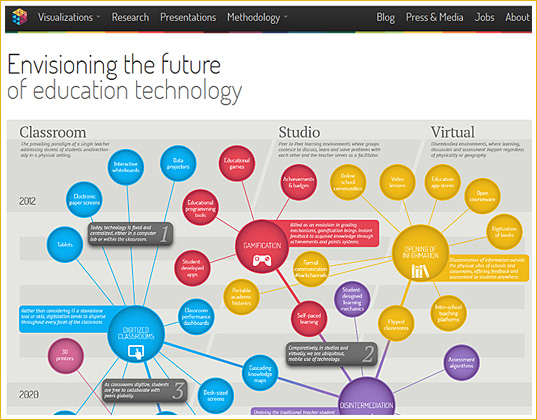 On 06/08/2012, in 21st century, Artificial Intelligence / Machine Learning / Deep Learning, disruption, emerging technologies, future, human-computer interaction (HCI), machine-to-machine communications, multi-touch, personalized/customized learning, UK, user experience (UX), user interface design, virtual field trips, virtual K-12 schools, Virtual Reality (VR) / worlds / learning, virtual tutoring, by Daniel Christian
Contents
Virtual assistants: four generations in 20 years
The evolving VA technology landscape
The VA Competitive landscape
VA business models: Revenue share rather than paid app downloads
Leaders and challengers in the VA value chain
Beyond Siri: What's in store in the VA market
Behind this report
Lead researcher: Marlène Sellebråten
Project lead: Michael Vakulenko
Marketing lead: Matos Kapetanakis
Editorial: Andreas Constantinou
Ocean Blue launches world's first digital TV calendar and diary at ANGA 2012 — from virtual-strategy.com
Ocean Blue Software, a leading innovator of digital TV middleware software, has developed an interactive assistive living TV calendar and diary that will help people organise their lives via their TVs and enable doctors to interact with patients at home.
Excerpt:
With IP connectivity the Timewatch Calendar can be linked to, for example, Google calendar, health care system servers or medical clinic online calendars. Examples of such interaction would include family and friends being able to post reminders on to the calendar. Doctors and other health care professionals will also be able to interact with patients and manage medical appointments through the calendar.
Also see:
On 03/26/2012, in Africa, Asia, Australia, budgets, business side of he, Canada, cost of getting a degree, Europe, funding / grants, global / globalization, UK, United States, by Daniel Christian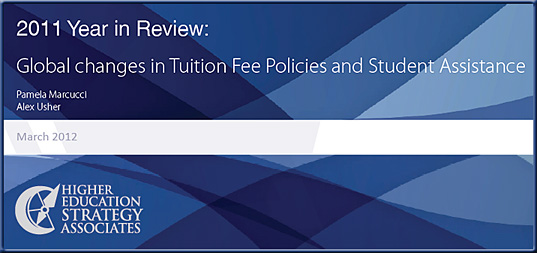 Excerpt:
All around the world, the pace of change in higher education is accelerating. In the face of continued increases in participation, demographic change and – in the west at least – profound fiscal crises, higher education institutions are increasingly being required to raise funds from students as opposed to relying on transfers from governments. Indeed, the pace of policy change is coming so quickly that it is difficult to keep track of all the relevant developments in different parts of the world.
In this, the second edition of Year in Review: Tuition Fees and Student Assistance, we outline the major changes related to higher education affordability around the world in 2011. In order to keep our sample manageable, we have kept our inquiries to a selection of 40 countries that collectively best represent the global situation:
The G-40 consists of: Argentina, Australia, Brazil, Canada, Chile, China, Colombia, Egypt, Finland, France, Germany, Hong Kong, India, Indonesia, Iran, Israel, Italy, Japan, Korea (Republic of), Malaysia, Mexico, the Netherlands, Nigeria, Pakistan, Philippines, Poland, Russian Federation, Saudi Arabia, Singapore, South Africa, Spain, Sweden, Switzerland, Taiwan, Thailand, Turkey, Ukraine, United Kingdom, United States, Vietnam.
Marcucci, Pamela and Usher, Alex (2012). 2011 Year in Review:
Global Changes in Tuition Fee Policies and Student Financial Assistance.
Toronto: Higher Education Strategy Associates.
On 03/16/2012, in Canada, disruption, education, emerging technologies, future of higher education, game-changing environment, higher education, India, learning ecosystem, open courseware and systems, UK, United States, by Daniel Christian