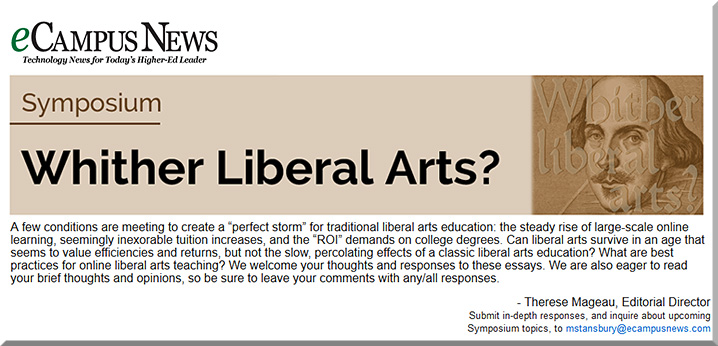 Liberal arts education is unique in its ability to develop independence of thought, to nurture wisdom, and to build both a deep empathy for others and broad context for decision making in uncertain situations.
— Gunnar Counselman
8 steps to 7 billion liberal arts degrees — from ecampusnews.com by Gunnar Counselman, the founder/CEO of Fidelis Education, a Learning Relationship Management (LRM) System.
Excerpt (emphasis DSC):
So being on the offensive about the liberal arts means reframing the conversation from a defense for the 40M people who participate in it today. Being on offensive means abandoning all tendency toward Ludditism and instead getting creative about using technology to scale effective learning in the liberal arts and pure sciences to the other 99.6 percent of people on the planet. And being on the offensive means we must stop worrying about jobs. There will be many more jobs educating 99.6 percent of the world's population than there are educating the .4 percent (the percentage of the world population currently receiving a liberal arts degree), no matter how efficient we become with technology.
…
Let's observe the ingredients of liberal education as they are today at places like Middlebury, Smith, Sarah Lawrence, and Union, honors programs at state universities, then imagine what it would look like scaled to 7 billion people.
…
This analysis makes it clear that liberal education is a relationship-generation machine built around personalized content. So our technology has to be a relationship-management machine, purpose-built to make sure that every single person in a learning community has peers, mentors, and advisors to collaborate to build strong learning pathways of content.
From DSC:
Though Gunnar likely has his LMS-influenced lenses on while sharing his thoughts here (as I often have my tech-tinted lenses/perspectives on as well), he still makes some valid points.  Those who support the liberal arts need "to stop hunkering down in a defensive posture. It's time to go on the offensive…" he asserts.  I would second his thought that we need to creatively employ technology to help the liberal arts thrive in the 21st century.

In fact, I'm beginning to wonder more and more if online/digitally-based learning will turn out to be the very thing that saves the liberal arts as we make our way through the 21st century.  Getting a liberal arts degree at $5K a year is one thing.  Getting it at a price tag of $25K-$50+K per year is another thing.  When prices rise like that, expectations change.  The expectations of a solid ROI come to mind much more as the prices increase (and I would even use the word requirements for many of us now, not just expectations). 
If we want the liberal arts to continue to exist outside the top 5% of the income earners out there, we must find ways to bring the prices down again. The best way I know to do that is to go online — at least in part.  Setting up a new server or asking one's vendor(s) to allocate more storage, bandwidth, applications, user accounts, etc. is far cheaper than maintaining physical campuses or developing new buildings on campuses across the land.  And you can still have excellent relationships, interactions, and communications via online/digitally-based means.

Also see: