A school bus, virtual reality, & an out-of-this-world journey — from goodmenproject.com
"Field Trip To Mars" is the barrier-shattering outcome of an ambitious mission to give a busload of people the same, Virtual Reality experience – going to Mars.
Excerpt:
Inspiration was Lockheed's goal when it asked its creative resources, led by McCann, to create the world's first mobile group Virtual Reality experience. As one creator notes, VR now is essentially a private, isolating experience. But wouldn't it be cool to give a busload of people the same, simultaneous VR experience? And then – just to make it really challenging – put the whole thing on wheels?
"Field Trip To Mars" is the barrier-shattering outcome of this ambitious mission.
From DSC:
This is incredible! Very well done. The visual experience tracks the corresponding speeds of the bus and even turns of the bus.
Ed Dept. Launches $680,000 Augmented and Virtual Reality Challenge — from thejournal.com by David Nagel
Excerpt:
The United States Department of Education (ED) has formally kicked off a new competition designed to encourage the development of virtual and augmented reality concepts for education.
Dubbed the EdSim Challenge, the competition is aimed squarely at developing students' career and technical skills — it's funded through the Carl D. Perkins Career and Technical Education Act of 2006 — and calls on developers and ed tech organizations to develop concepts for "computer-generated virtual and augmented reality educational experiences that combine existing and future technologies with skill-building content and assessment. Collaboration is encouraged among the developer community to make aspects of simulations available through open source licenses and low-cost shareable components. ED is most interested in simulations that pair the engagement of commercial games with educational content that transfers academic, technical, and employability skills."
Virtual reality boosts students' results — from raconteur.net by Edwin Smith
Virtual and augmented reality can enable teaching and training in situations which would otherwise be too hazardous, costly or even impossible in the real world
Excerpt:
More recently, though, the concept described in Aristotle's Nicomachean Ethics has been bolstered by further scientific evidence. Last year, a University of Chicago study found that students who physically experience scientific concepts, such as the angular momentum acting on a bicycle wheel spinning on an axel that they're holding, understand them more deeply and also achieve significantly improved scores in tests.
Virtual and augmented reality are shaking up sectors — from raconteur.net by Sophie Charara
Both virtual and augmented reality have huge potential to leap from visual entertainment to transform the industrial and service sectors
Microsoft's HoloLens could power tanks on a battlefield — from theverge.com by Tom Warren
Excerpt:
Microsoft might not have envisioned its HoloLens headset as a war helmet, but that's not stopping Ukrainian company LimpidArmor from experimenting. Defence Blog reports that LimpidArmor has started testing military equipment that includes a helmet with Microsoft's HoloLens headset integrated into it.
The helmet is designed for tank commanders to use alongside a Circular Review System (CRS) of cameras located on the sides of armored vehicles. Microsoft's HoloLens gathers feeds from the cameras outside to display them in the headset as a full 360-degree view. The system even includes automatic target tracking, and the ability to highlight enemy and allied soldiers and positions.
Bring your VR to work — from itproportal.com by Timo Elliott, Josh Waddell 4 hours ago
With all the hype, there's surprisingly little discussion of the latent business value which VR and AR offer.
Excerpt:
With all the hype, there's surprisingly little discussion of the latent business value which VR and AR offer — and that's a blind spot that companies and CIOs can't afford to have. It hasn't been that long since consumer demand for the iPhone and iPad forced companies, grumbling all the way, into finding business cases for them. Gartner has said that the next five to ten years will bring "transparently immersive experiences" to the workplace. They believe this will introduce "more transparency between people, businesses, and things" and help make technology "more adaptive, contextual, and fluid."
If digitally enhanced reality generates even half as much consumer enthusiasm as smartphones and tablets, you can expect to see a new wave of consumerisation of IT as employees who have embraced VR and AR at home insist on bringing it to the workplace. This wave of consumerisation could have an even greater impact than the last one. Rather than risk being blindsided for a second time, organisations would be well advised to take a proactive approach and be ready with potential business uses for VR and AR technologies by the time they invade the enterprise.
In Gartner's latest emerging technologies hype cycle, Virtual Reality is already on the Slope of Enlightenment, with Augmented Reality following closely.
VR's higher-ed adoption starts with student creation — from edsurge.com by George Lorenzo
Excerpt:
One place where students are literally immersed in VR is at Carnegie Mellon University's Entertainment Technology Center (ETC). ETC offers a two-year Master of Entertainment Technology program (MET) launched in 1998 and cofounded by the late Randy Pausch, author of "The Last Lecture."
MET starts with an intense boot camp called the "immersion semester" in which students take a Building Virtual Worlds (BVW) course, a leadership course, along with courses in improvisational acting, and visual storytelling. Pioneered by Pausch, BVW challenges students in small teams to create virtual reality worlds quickly over a period of two weeks, culminating in a presentation festival every December.
Apple patents augmented reality mapping system for iPhone — from appleinsider.com by Mikey Campbell
Apple on Tuesday was granted a patent detailing an augmented reality mapping system that harnesses iPhone hardware to overlay visual enhancements onto live video, lending credence to recent rumors suggesting the company plans to implement an iOS-based AR strategy in the near future.
A bug in the matrix: virtual reality will change our lives. But will it also harm us? — from theguardian.stfi.re
Prejudice, harassment and hate speech have crept from the real world into the digital realm. For virtual reality to succeed, it will have to tackle this from the start
The latest Disney Research innovation lets you feel the rain in virtual reality — from haptic.al by Deniz Ergurel
Excerpt:
Virtual reality is a combination of life-like images, effects and sounds that creates an imaginary world in front of our eyes.
But what if we could also imitate more complex sensations like the feeling of falling rain, a beating heart or a cat walking? What if we could distinguish, between a light sprinkle and a heavy downpour in a virtual experience?
Disney Research?—?a network of research laboratories supporting The Walt Disney Company, has announced the development of a 360-degree virtual reality application offering a library of feel effects and full body sensations.
Relive unforgettable moments in history through Timelooper APP. | Virtual reality on your smartphone.
Literature class meets virtual reality — from blog.cospaces.io by Susanne Krause
Not every student finds it easy to let a novel come to life in their imagination. Could virtual reality help? Tiffany Capers gave it a try: She let her 7th graders build settings from Lois Lowry's "The Giver" with CoSpaces and explore them in virtual reality. And: they loved it.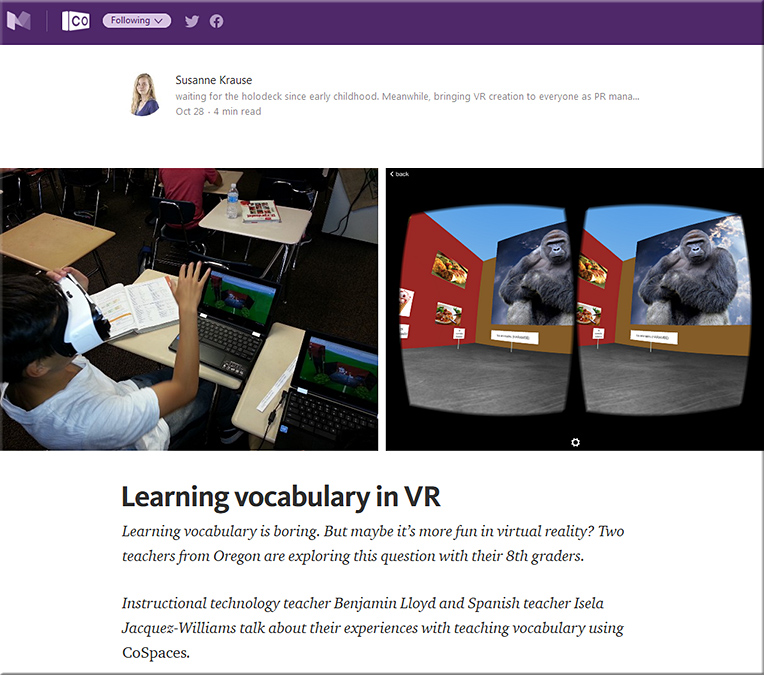 James Bay students learn Cree syllabics in virtual reality — from cbc.ca by Celina Wapachee and Jaime Little
New program teaches syllabics inside immersive world, with friendly dogs and archery
VRMark will tell you if your PC is ready for Virtual Reality — from engadget.com by Sean Buckley
Benchmark before you buy.
Forbidden City Brings Archaeology to Life With Virtual Reality — from wsj.com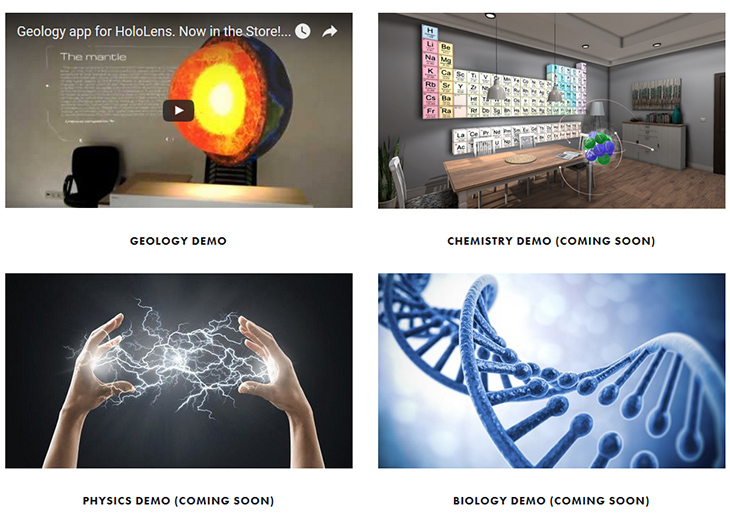 Will virtual reality change the way I see history? — from bbc.co.uk
Scientists can now explore cells in virtual reality — from mashable.com by Ariel Bogle
Excerpt:
After generations of peering into a microscope to examine cells, scientists could simply stroll straight through one.
Calling his project the "stuff of science fiction," director of the 3D Visualisation Aesthetics Lab at the University of New South Wales (UNSW) John McGhee is letting people come face-to-face with a breast cancer cell.
Can Virtual Reality Make Us Care More? — from huffingtonpost.co.uk by Alex Handy
Excerpt:
In contrast, VR has been described as the "ultimate empathy machine." It gives us a way to virtually put us in someone else's shoes and experience the world the way they do.
Stanford researchers release virtual reality simulation that transports users to ocean of the future — from news.stanford.edu by Rob Jordan
Free science education software, available to anyone with virtual reality gear, holds promise for spreading awareness and inspiring action on the pressing issue of ocean acidification.
The High-end VR Room of the Future Looks Like This — from uploadvr.com by Sarah Downey
Excerpt:
This isn't meant to be an exhaustive list, but if I missed something major, please tell me and I'll add it. Also, please reach out if you're working on anything cool in this space à sarah(at)accomplice(dot)co.
Hand and finger tracking, gesture interfaces, and grip simulation:
AR and VR viewers:
Omnidirectional treadmills:
Haptic feedback bodysuits:
Brain-computer interfaces:
Neural plugins:
The Matrix (film)
Sword Art Online (TV show)
Neuromancer (novel)
Total Recall (film)
Avatar (film)
3D tracking, capture, and/or rendering:
Eye tracking:
 VR audio:
Scent creation: