On 09/22/2018, in Apple, augmented reality, Daniel S. Christian, emerging technologies, Facebook, future, future of higher education, game-changing environment, human-computer interaction (HCI), ideas, immersion, innovation, interactivity, iPad, iPhone, learning spaces, smart classrooms, virtual reality / worlds / learning, XR - extended reality, by Daniel Christian
Excerpt:
Mae Jemison, the first woman of color to go into space, stood in the center of the room and prepared to become digital. Around her, 106 cameras captured her image in 3-D, which would later render her as a life-sized hologram when viewed through a HoloLens headset.
Jemison was recording what would become the introduction for a new exhibit at the Intrepid Sea, Air, and Space Museum, which opens tomorrow as part of the Smithsonian's annual Museum Day. In the exhibit, visitors will wear HoloLens headsets and watch Jemison materialize before their eyes, taking them on a tour of the Space Shuttle Enterprise—and through space history. They're invited to explore artifacts both physical (like the Enterprise) and digital (like a galaxy of AR stars) while Jemison introduces women throughout history who have made important contributions to space exploration.
Interactive museum exhibits like this are becoming more common as augmented reality tech becomes cheaper, lighter, and easier to create.
Oculus will livestream it's 5th Connect Conference on Oculus venues — from vrscout.com by Kyle Melnick
Excerpt (emphasis DSC):
Using either an Oculus Go standalone device or a mobile Gear VR headset, users will be able to login to the Oculus Venues app and join other users for an immersive live stream of various developer keynotes and adrenaline-pumping esports competitions.
From DSC:
What are the ramifications of this for the future of webinars, teaching and learning, online learning, MOOCs and more…?
10 new AR features in iOS 12 for iPhone & iPad — from mobile-ar.reality.news by Justin Meyers
Excerpt:
Apple's iOS 12 has finally landed. The big update appeared for everyone on Monday, Sept. 17, and hiding within are some pretty amazing augmented reality upgrades for iPhones, iPads, and iPod touches. We've been playing with them ever since the iOS 12 beta launched in June, and here are the things we learned that you'll want to know about.
For now, here's everything AR-related that Apple has included in iOS 12. There are some new features aimed to please AR fanatics as well as hook those new to AR into finally getting with the program. But all of the new AR features rely on ARKit 2.0, the latest version of Apple's augmented reality framework for iOS.
Berkeley College Faculty Test VR for Learning— from campustechnology.com by Dian Schaffhauser
Excerpt:
In a pilot program at Berkeley College, members of a Virtual Reality Faculty Interest Group tested the use of virtual reality to immerse students in a variety of learning experiences. During winter 2018, seven different instructors in nearly as many disciplines used inexpensive Google Cardboard headsets along with apps on smartphones to virtually place students in North Korea, a taxicab and other environments as part of their classwork.
Participants used free mobile applications such as Within, the New York Times VR, Discovery VR, Jaunt VR and YouTube VR. Their courses included critical writing, international business, business essentials, medical terminology, international banking, public speaking and crisis management.
On 09/14/2017, in Apple, Artificial Intelligence / Machine Learning / Deep Learning, augmented reality, computer science, human-computer interaction (HCI), innovation, iPhone, Natural Language Processing (NLP), platforms, programming, Smart/Connected TV, Technologies for your home, television, tools, user experience (UX), vendors, by Daniel Christian
---
---
Also see:
---
---
Everything Apple Announced — from wired.comby Arielle Pardes
Excerpt:
To much fanfare, Apple CEO Tim Cook unveiled the next crop of iPhones [on 9/12/17] at the new Steve Jobs Theater on Apple's new headquarters in Cupertino. With the introduction of three new phones, Cook made clear that Apple's premiere product is very much still evolving. The iPhone X, he said, represents "the future of smartphones": a platform for augmented reality, a tool for powerful computing, screen for everything. But it's not all about the iPhones. The event also brought with it a brand new Apple Watch, upgrades to Apple TV, and a host of other features coming to the Apple ecosystem this fall. Missed the big show? Check out our archived live coverage of Apple's big bash, and read all the highlights below.
iPhone Event 2017 — from techcrunch.com
From DSC:
A nice listing of articles that cover all of the announcements.
Apple Bets on Augmented Reality to Sell Its Most Expensive Phone — from bloomberg.com by Alex Webb and Mark Gurman
Excerpt:
Apple Inc. packed its $1,000 iPhone with augmented reality features, betting the nascent technology will persuade consumers to pay premium prices for its products even as cheaper alternatives abound.
The iPhone X, Apple's most expensive phone ever, was one of three new models Chief Executive Officer Tim Cook showed off during an event at the company's new $5 billion headquarters in Cupertino, California, on Tuesday. It also rolled out an updated Apple Watch with a cellular connection and an Apple TV set-top box that supports higher-definition video.
…
Augmented Reality
Apple executives spent much of Tuesday's event describing how AR is at the core of the new flagship iPhone X. Its new screen, 3-D sensors, and dual cameras are designed for AR video games and other more-practical uses such as measuring digital objects in real world spaces. Months before the launch, Apple released a tool called ARKit that made it easier for developers to add AR capabilities to their apps.
These technologies have never been available in consumer devices and "solidify the platform on which Apple will retain and grow its user base for the next decade," Gene Munster of Loup Ventures wrote in a note following Apple's event.
The company is also working on smart glasses that may be AR-enabled, people familiar with the plan told Bloomberg earlier this year.
Meet the iPhone X, Apple's New High-End Handset — from wired.com by David Pierce
Excerpt:
First of all, the X looks like no other phone. It doesn't even look like an iPhone. On the front, it's screen head to foot, save for a small trapezoidal notch taken out of the top where Apple put selfie cameras and sensors. Otherwise, the bezel around the edge of the phone has been whittled to near-nonexistence and the home button disappeared—all screen and nothing else. The case is made of glass and stainless steel, like the much-loved iPhone 4. The notched screen might take some getting used to, but the phone's a stunner. It goes on sale starting at $999 on October 27, and it ships November 3.
…
If you can't get your hands on an iPhone X in the near future, Apple still has two new models for you. The iPhone 8 and 8 Plus both look like the iPhone 7—with home buttons!—but offer a few big upgrades to match the iPhone X. Both new models support wireless charging, run the latest A11 Bionic processor, and have 2 gigs of RAM. They also have glass backs, which gives them a glossy new look. They don't have OLED screens, but they're getting the same TrueTone tech as the X, and they can shoot video in 4K.
Apple Debuts the Series 3 Apple Watch, Now With Cellular — from wired.com by David Pierce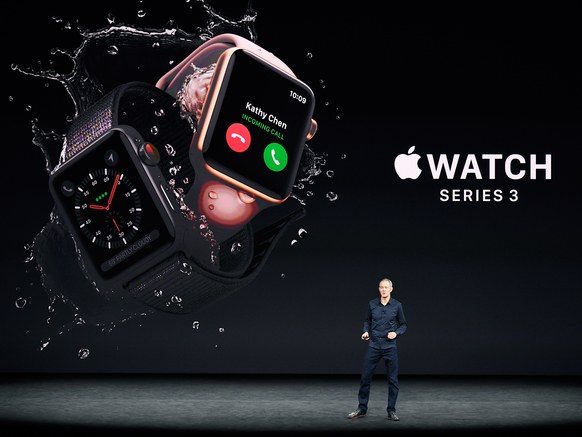 Ikea and Apple team up on augmented reality home design app — from curbed.com by Asad Syrkett
The 'Ikea Place' app lets shoppers virtually test drive furniture
The New Apple iPhone 8 Is Built for Photography and Augmented Reality — from time.com by Alex Fitzpatrick
Excerpt:
Apple says the new iPhones are also optimized for augmented reality, or AR, which is software that makes it appear that digital images exist in the user's real-world environment. Apple SVP Phil Schiller demonstrated several apps making use of AR technology, from a baseball app that shows users player statistics when pointing their phone at the field to a stargazing app that displays the location of constellations and other celestial objects in the night sky. Gaming will be a major use case for AR as well.
Apple's new iPhone 8 and iPhone 8 plus will have wireless charging as well. Users will be able to charge the device by laying it down on a specially-designed power mat on their desk, bedside table or inside their car, similar to how the Apple Watch charges. (Competing Android devices have long had a similar feature.) Apple is using the Qi wireless charging standard for the iPhones.
Why you shouldn't unlock your phone with your face — from medium.com by Quincy Larson
Excerpt:
Today Apple announced its new FaceID technology. It's a new way to unlock your phone through facial recognition. All you have to do is look at your phone and it will recognize you and unlock itself. At time of writing, nobody outside of Apple has tested the security of FaceID. So this article is about the security of facial recognition, and other forms of biometric identification in general.
Historically, biometric identification has been insecure. Cameras can be tricked. Voices can be recorded. Fingerprints can be lifted. And in many countries?—?including the US?—?the police can legally force you to use your fingerprint to unlock your phone. So they can most certainly point your phone at your face and unlock it against your will. If you value the security of your data?—?your email, social media accounts, family photos, the history of every place you've ever been with your phone?—?then I recommend against using biometric identification.
Instead, use a passcode to unlock your phone.
The iPhone lineup just got really compleX  — from techcrunch.com by Josh Constine
Apple's 'Neural Engine' Infuses the iPhone With AI Smarts — from wired.com by Tom Simonite
Excerpt:
When Apple CEO Tim Cook introduced the iPhone X Tuesday he claimed it would "set the path for technology for the next decade." Some new features are superficial: a near-borderless OLED screen and the elimination of the traditional home button. Deep inside the phone, however, is an innovation likely to become standard in future smartphones, and crucial to the long-term dreams of Apple and its competitors.
That feature is the "neural engine," part of the new A11 processor that Apple developed to power the iPhone X. The engine has circuits tuned to accelerate certain kinds of artificial-intelligence software, called artificial neural networks, that are good at processing images and speech.
Apple said the neural engine would power the algorithms that recognize your face to unlock the phone and transfer your facial expressions onto animated emoji. It also said the new silicon could enable unspecified "other features."
Chip experts say the neural engine could become central to the future of the iPhone as Apple moves more deeply into areas such as augmented reality and image recognition, which rely on machine-learning algorithms. They predict that Google, Samsung, and other leading mobile-tech companies will soon create neural engines of their own. Earlier this month, China's Huawei announced a new mobile chip with a dedicated "neural processing unit" to accelerate machine learning.
On 08/29/2017, in A/V -- audio/visual, Apple, augmented reality, computer science, emerging technologies, experimentation, Google, innovation, iPhone, platforms, play, programming, tools, trends, usability, user experience (UX), vendors, by Daniel Christian
ARCore: Augmented reality at Android scale — from blog.google by Dave Burke
Excerpt:
With more than two billion active devices, Android is the largest mobile platform in the world. And for the past nine years, we've worked to create a rich set of tools, frameworks and APIs that deliver developers' creations to people everywhere. Today, we're releasing a preview of a new software development kit (SDK) called ARCore. It brings augmented reality capabilities to existing and future Android phones. Developers can start experimenting with it right now.
Google just announced its plan to match the coolest new feature coming to the iPhone –from cnbc.com by Todd Haselton
Google just announced its answer to Apple's augmented reality platform
New tools called ARCore will let developers enable AR on millions of Android devices
Description:
AR Experiments is a site that features work by coders who are experimenting with augmented reality in exciting ways. These experiments use various tools like ARCore, an SDK that lets Android developers create awesome AR experiences. We're featuring some of our favorite projects here to help inspire more coders to imagine what could be made with AR.
Google's ARCore hopes to introduce augmented reality to the Android masses — from androidauthority.com by Williams Pelegrin
Excerpt:
Available as a preview, ARCore is an Android software development kit (SDK) that lets developers introduce AR capabilities to, you guessed it, Android devices. Because of how ARCore works, there is no need for folks to purchase additional sensors or hardware – it will work on existing and future Android phones.