On 08/31/2020, in algorithms, Artificial Intelligence / Machine Learning / Deep Learning, data mining, Google, ideas, innovation, law schools, Legal operations, legal technologies, legislatures / government / legal, productivity / tips and tricks, research, society, tools, vendors, by Daniel Christian
ROSS Chrome Extension For Legal Research — from artificiallawyer.com
Excerpt:
ROSS Intelligence, the legal research pioneer, has launched a free Chrome extension to find case law support for text found anywhere on the web.
In this latest AL TV Product Walk Through, Maya Bielinski, Head of Product at ROSS, explains how it works and what its capabilities are in this 8-minute overview.
…
As Maya explains, all you have to do is highlight the text you are interested in, right click, and find decisions that express the concept you've searched.
The application uses ROSS's Find Similar Language tool, which uses semantic search.
On 08/04/2020, in 21st century, Artificial Intelligence / Machine Learning / Deep Learning, computer science, data mining, innovation, Natural Language Processing (NLP), robotics, society, technology (general), trends, Virtual Reality (VR) / worlds / learning, voice recognition / voice enabled interfaces, XR - extended reality, by Daniel Christian
Radar trends to watch: August 2020 — from oreilly.com
Trends in COVID-19, AI, data, robotics, programming, VR, technology and society, and security.
Excerpt:
A promising new voice separation model allows voice recognition to distinguish up to five voices speaking simultaneously without knowing the number of speakers in advance.
On 07/08/2020, in Amazon, analytics, business, career development, colleges, community colleges, computer science, corporate / business world, data mining, economics, engineering, mathematics, Microsoft, programming, tools, workplace, by Daniel Christian
From DSC:
For current and/or future data scientists out there.
Required Skills
The data analyst position at Amazon requires specialization in knowledge and experience. Therefore, Amazon only hires highly qualified candidates with at least 3 years of industry experience working with data analysis, data modelling, advanced business analytics, and other related fields.
Other basic qualifications include:
Bachelor's or Masters (PhD prefered) in Finance, Business, Economics, Engineering, math, statistics, computer science, Operation Research, or related fields.
Experience with scripting, querying, and data warehouse tools, such as Linux, R, SAS, and/or SQL
Extensive experience in programming languages like Python, R,  or Java.
Experience with querying relational databases (SQL) and hands-on experience with processing, optimization, and analysis of large data set.
Proficiency with Microsoft Excel, Macros and Access.
Experience in identifying metrics and KPIs, gathering data, experimentation, and presenting decks, dashboards, and scorecards.
Experience with business intelligence and automated self-service reporting tools such as Tableau, Quicksight, Microsoft Power BI, or Cognos.
Experience with AWS services such as RDS, SQS, or Lambda.
On 06/24/2020, in Blockchain, business, corporate / business world, data mining, emerging technologies, professional development, society, tools, United States, vendors, workplace, by Daniel Christian
What is blockchain technology? The ultimate guide for beginners. — from cryptocoinsociety.com by Jesús Cedeño
Excerpt:
The purpose of this article is to address three central questions that should be discussed to fully understand and appreciate this revolutionary and disruptive technology called blockchain. This will include historical details about nascent technology and its evolutionary progress through the first decade of existence. We will also explore the different types of this technology and explain why the blockchain name is a misnomer and introduce a more proper name for the technology.
Why do we Need Blockchain Technology?
To answer this question we need to state what is the value proposition of Blockchain Technology. Blockchain's value hinges on decentralization. Without decentralization blockchain technology is no different from regular databases. Decentralization removes the need to have an intermediary or a single authority that acts as gatekeepers of truth or having to trust an entity to ensure the trustworthiness of any transaction. Through blockchain, people will be able to transact with each other directly without having to worry that transactions will push through and will not be reversible.
On 06/04/2020, in 21st century, 24x7x365 access, Asia, data mining, emerging technologies, ethics, Europe, future, internet, leadership, legislatures / government / legal, machine-to-machine communications, morals/values, policy, political science, society, the downsides of technology, tools, trends, United States, vendors, by Daniel Christian
From DSC:
I can't help but reflect on how slippery the slope is when we start talking about using drones — especially as sponsored and used by governments, including our government here in the U.S. Consider the following from The Future Institute.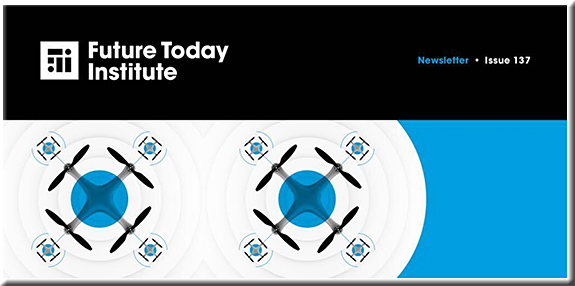 Excerpt:
Eyes in the sky
As nationwide racial justice protests continue, some journalists and protestors have noticed a new addition to the armed police officers and National Guard troops: a drone flying a hexagon-shaped route 20,000 feet above the streets in Minneapolis. The drone, flown by U.S. Customs and Border Protection, is called a Predator, and is a piece of military technology used for identifying and targeting terrorists overseas. Lately, it's become a more common sight domestically.
Last month, a number of New Yorkers witnessed a drone floating above them, barking orders to follow social distancing guidelines. The mysterious drone wasn't official police equipment, but rather a privately owned device piloted by a man named Xavier Arthur in Queens, who was frustrated that people weren't following stay-at-home orders. He claimed to represent the "Anti-Covid-19 Volunteer Drone Task Force. 
It's not an isolated incident. During the outbreak, drones have been used extensively to monitor residents and encourage them to stay indoors, to inspect traffic stops and hospitals, and to spray cities with disinfectants. In Paris and Mumbai, they're patrolling social distancing violators. In China, a video clip went viral, showing a drone breaking up a mahjong game—residents had defied local orders that they stay indoors. Drones with infrared cameras also allegedly flew overhead and checked for people with fevers.
Advanced drones can pinpoint certain behaviors in crowds from high altitudes, recognize and automatically follow targets, and communicate with each other or to command centers on the ground with remarkable precision and low latency. The pandemic and protests are playing to the strengths of an emerging real-time aerial surveillance ecosystem.
3 Things You Should Know
The Flying Internet of Things is taking off.
New drones can self-destruct.
Shareable drones may drive growth in the industry.
On 06/03/2020, in Access to Justice (A2J), change, collaboration, communities of practice, Daniel S. Christian, data mining, design, ideas, innovation, law schools, leadership, Legal operations, legal reform, legal technologies, legislatures / government / legal, parents, society, technology (general), telelegal, universities, by Daniel Christian
WEDNESDAY | 6.3 | Law Insights with Bob Ambrogi and Daniel Linna, Director of Law and Technology Initiatives, Northwestern University Pritzker School of Law
Notes (emphasis DSC):
Trying to build community, collaborate, work together
How do you manage a team remotely? How build community online?
Spontaneous interactions still needed
In what ways does the online ecosystem ADD to what we are doing?
Jury trial – online; equalizer for those involved in trial; "all in same space on the screen"
Start with some basic/smaller things – landlord/tenant
Racism going on heavily this week – a second pandemic
Developing a quality movement in law (Linna)
We need quality metrics and we need to measure the value being provided. What makes something effective, high-quality, and valuable? Now apply that thinking to the delivery of legal services.
Project mgmt / quality movement – less defects, etc. in 1980's / lean thinking / 6 sigma in GE / but haven't seen this in the area of law
Empiricism in law – 100 years ago medicine and law were in the same spot; since then medicine started more testing, empirical work, data-driven practices; but law didn't
Daniel Linna's blog – https://www.legaltechlever.com/
Can we come up with metrics?
Dan worked with a lawyer-assisted program in Lansing, MI – what happened? What was duration of cases? Data-driven thinking; measure; make it more of a science
Bob asked isn't law less scientific and perhaps more art than a science?
What kinds of metrics are we talking about in litigation?
Contracts – can we figure out what adds value and what makes a contract "better?" (Insert from DSC: Better for whom though?)
What actually matters to the client? Clauses that lawyers think that are important, businesspeople don't think are important. Risk mitigation is not all the client thinks about.
Incomprehensible contracts – too hard to understand
Natural language generation – what inputs do we need? We don't want many contracts to be the dataset that an algorithm gets trained on.

(

Insert from DSC: Daniel relayed some information that reminded me of

Clayton Christensen's disruptive thinking: 80% of impoverished folks get NOTHING. Totally disconnected. Perhaps we don't need perfection, but even

something

is much better than

nothing

. For example, provide an online legal aid booklet to those who are trying to represent themselves.)

Go for low-hanging fruit for more empirical
Ambrogi: How does the work you are doing impact access to justice (#A2J)? How could quality movement impact police procedures? Is there applicability in terms of what you are writing about?
Human-Centered Design – uncovering biases. Why would people TRUST the criminal system if they can't trust the CIVIL system? Perhaps if landlords thought differently. Disconnected.
Innovate, improve, project management;
Way decisions are made vary greatly; need more open data from our courts; lack of transparency from courts.
Leadership – commitment to resolve issues. Lacking vision. What do we want our legal systems to look like/act like?
Call to action:
Have or develop a quality mindset

Leadership needs to paint a vision for what the future looks like

Training around legal operations

How to measure quality and value – be more data-driven
We need disruption AND continuous improvement – not one or the other.
–Daniel Linna
On 04/17/2020, in art, collaboration, colleges, community colleges, content development, creativity, data mining, design, graphics, higher education, innovation, library / librarians, teaching & learning, United States, universities, usability, user experience (UX), using teams, by Daniel Christian
Making complex data approachable through art and information design — from vtnews.vt.edu
Excerpt:
Michael Stamper, University Libraries at Virginia Tech's data visualization designer, plays a unique role in the research process by transforming faculty and student clients' complex research data into vibrant, interactive, and dynamic visualizations to better communicate their findings to a broad audience.