My thanks to Academic Impressions who sent out the above item and the interactive graphic below.
From DSC:
I am not posting these to put down liberal arts colleges/universities/programs.  In fact, I went through a liberal arts program in college and I'm currently working at a liberal arts college.  Rather, I'm posting them to say, "Houston, we have a problem."  And to then prompt us all to ask, "What are we going to do about it?" 
Which reminds me again of a graphic I created a while back:
.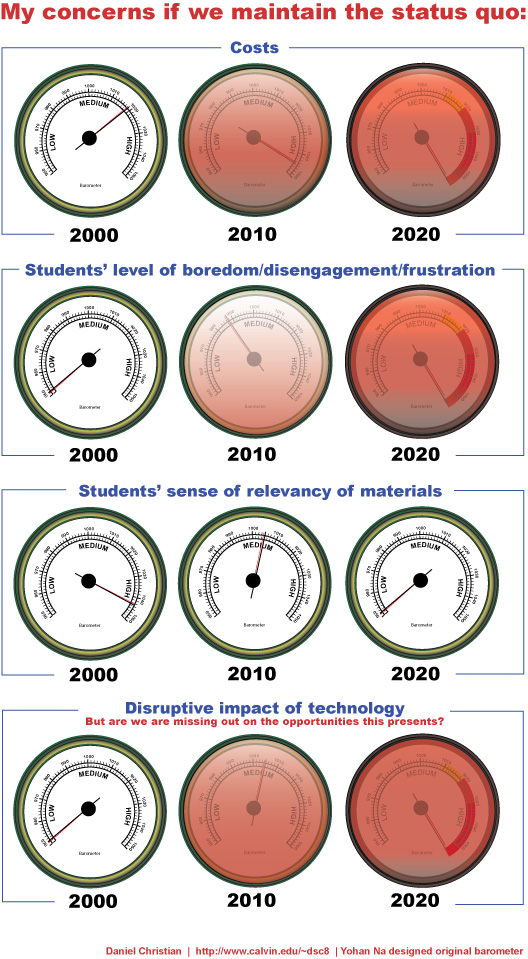 Addendum on 5/15/12:
Andrew Spear for The New York Times
E. Gordon Gee, the president of The Ohio State University, says that public colleges and universities need to devise a new business model to pay for the costs of education, beyond sticking students with higher tuition and greater debt.
COLUMBUS, Ohio — In a wood-paneled office lined with books, sports memorabilia and framed posters (including John Belushi in "Animal House"), E. Gordon Gee, the president of Ohio State University, keeps a framed quotation that reads, "If you don't like change, you're going to like irrelevance even less."